2006 Bordeaux tasted during barrel aging and before bottling
Published in January 2009


2006 BORDEAUXTasted during barrel aging and before bottling

This second tasting of over 340 wines of the vintage underlines the following characteristics:
The quality of red wines ranges from good to very good. As for dry white wines, it is excellent. For sweet white wines, it ranges from good to excellent.
Red wines appear uniform from one bank to the other. It is especially true for classified growths. Non-classified growths often disappointed me. A success of properties can be witnessed rather than regions.
Nevertheless, on the right bank, Pomerol seem to be superior to Saint-Emilion.
On the left bank, the region of Margaux distinguishes itself as well as non-classified growths of Saint-Estèphe.
I compare the quality of the wines of 2006 to the 2004 vintage, despite having different styles. Depending on estates, these vintages are playing hide and seek to take the leading position. You should use the price of the 2004s as a benchmark.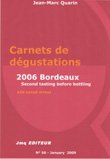 Order
PDF version :
15,00 €
Order
Subscription
To have access to all the publications, you can subscribe by
clicking here